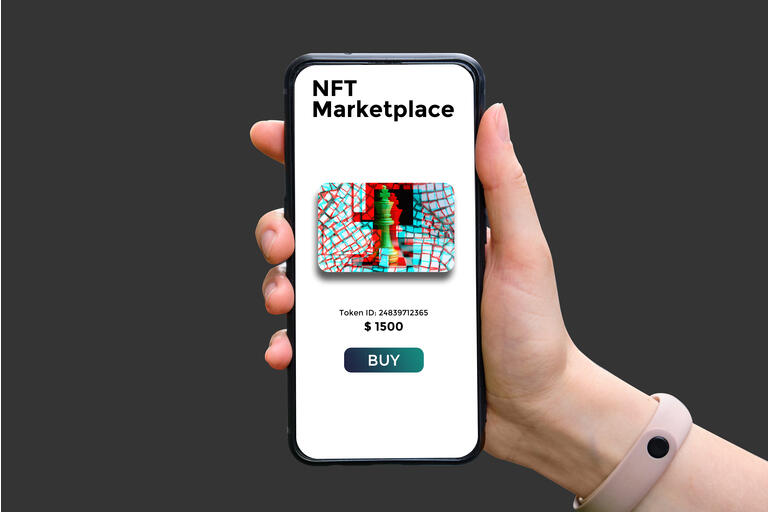 This article begins by going over the definition of an NFT and a taxonomy of investable NFT types. Investors should not conflate a non-fungible token with collectible digital art, one of many NFT use cases. The ability to represent a one-of-a-kind digital or physical asset on the blockchain in a tokenized, tradable format is a technological breakthrough that should not be understated. However, the same could be said for the way the Initial Coin Offering (ICO) revolutionized the way individuals and start-up teams raised funds-and that craze did not bode well for the average investor.
My conclusion is this: history does not repeat, but it rhymes. A crudely drawn image of an alien by Gary Vaynerchuk selling for $658,599 is late crypto-cycle dynamics at its worst. Will some forms of collectible art retain value and even appreciate over time? Yes. Ethereum is an example of a successful ICO in 2015. Will a flower drawn by Brain Vomits Garden still sell for $5,544 at the end of this cycle? I doubt it.
What Are NFTs?
Ethereum (ETH-USD) tokens are identical, interchangeable, and divisible. Ethereum is a Layer 1 protocol for building decentralized applications. However, it has an entire sub-economy of tokens running on top of the network using token standards such as ERC-20 for DeFi and ERC-721 for NFTs. The ERC-721 standard stores asset information and ownership data on the blockchain. Smart contract competitors such as Solana (SOL-USD), Cardano (ADA-USD), and Terra (LUNA-USD) all have NFT minting capability.
NFTs do not have the aforementioned qualities because they are uniquely tied to a specific asset. They are non-interchangeable because an exact replica cannot exist. They are non-divisible because they are a single asset in tokenized form. To define NFTs as digital art is a misrepresentation of the space. Digital art is one type of non-fungible token. Just as certain sectors in equity markets can be overvalued relative to others, I consider digital art incredibly overvalued relative to NFT use cases on the horizon
Use Cases
Digital artwork with verified ownership is the current, trendy aspect of the NFT space. Here are some other future investable NFT use cases worth noting:
Crypto gaming economies: Imagine a massive multiplayer online game such as World of Warcraft. Now imagine if goods in the game were scarce with private blockchain addresses. Gaming economies are already developing due to this concept. Land, houses, clothes, and weapons will all be unique. Virtual tailors and weapons smiths will be creating real value and gaining real income in the virtual world. Individuals can currently purchase parcels of land in different metaverses such as Decentraland (MANA-USD). Additionally, Enjin (ENJ-USD) is an ERC-20 token driving the creation of NFT-based gaming items.
Physical Asset tokens: Individuals or firms can tokenize real world assets and provide proof of ownership through non-fungible tokens. This can include real estate square footage, physical artwork, or a 1787 copy of the U.S. Constitution. Real estate investors can gain quick liquidity by partitioning and selling square footage, while retail investors gain fractionalized access to commercial real estate projects with no bank involvement and little capital.
Music/content creators: According to Rex Woodbury of Digital Native, a recording artist makes roughly 8% of the revenue generated from his or her music after streaming providers and record labels take their cuts. Musical artists can own their work by tokenizing songs or albums to keep 100% of the copyright, monetize up front, and pay royalty streams back to token holders. Future economies will surround the musicians, not the record labels.
Access tokens: What if some suites in a hotel were exclusive to token holders who owned fractions of the hotel? What if a DAO won ownership of a sports team, and certain seats in a stadium were reserved for owners/token holders? The tokens would also appreciate and depreciate depending on the team's performance and demand to be a partial owner. The proof of ownership aspect of NFTs can also provide access rights to certain events or properties.
Are NFTs A Bubble?
Yes and no. As the above use cases suggest, much of the NFT space is yet to be explored. I believe the real NFT money will be made in the tokens that flatten centralized, hierarchical business structures-whether that business is gaming, real estate, music, Web2 gatekeepers, or owning a sports team. Digital artwork is a neat component of NFTs, but I believe it is a bubble. Will some, such as Cryptopunks, retain value due to the cultural significance of being one of the first in the space? I believe so. I also believe much of the excess speculation will be gone once the crypto price cycle turns, and many of the side projects will go to zero.
The ICO Boom Analogy
NFTs, or at least the digital art component, is the ICO boom of the current cycle. ICOs automated the fundraising process for blockchain projects through smart contracts in a way that avoided banks and venture capital. It was venture capital by crowdsourcing, with a real-time market price per token as opposed to a nebulous estimated acquisition price. However, many used the ICO boom to take advantage of unwitting investors seeking to get rich quick.
In the ICO boom of 2017, roughly 800 projects raised a total of $4.9 billion. Some projects, such as Tezos (XTZ-USD) and Civic (CVC-USD) were successful. In fact, 11 projects returned over 1,000% to investors. However, only 10.8% of projects posted a positive return. Furthermore, if one takes away those 11 "unicorns," the median return was negative 87%.
I believe when the cycle turns and the dust settles, most NFT art projects will be worth significantly less and many projects will be worth zero. The current mania is a signpost of speculative fervor that most investors will not connect to the ICO boom until it is far too late.
Conclusion
Art and value are both subjective. Additionally, crypto-collectibles is not an area that I have much interest in as an investor. I may be completely off the mark in thinking that an alien drawing worth a four-bedroom house is ludicrous. If I am wrong, that is a risk I am willing to accept.
Though I am bearish on collecting specific pieces of digital art, I am bullish on the non-fungible token overall, and its ability to impact certain business structures. For that reason, I am bullish on Layer 1 smart contract protocols such as Ethereum and Solana. I am also bullish on NFT specific protocols tackling specific industries such as Enjin with gaming.